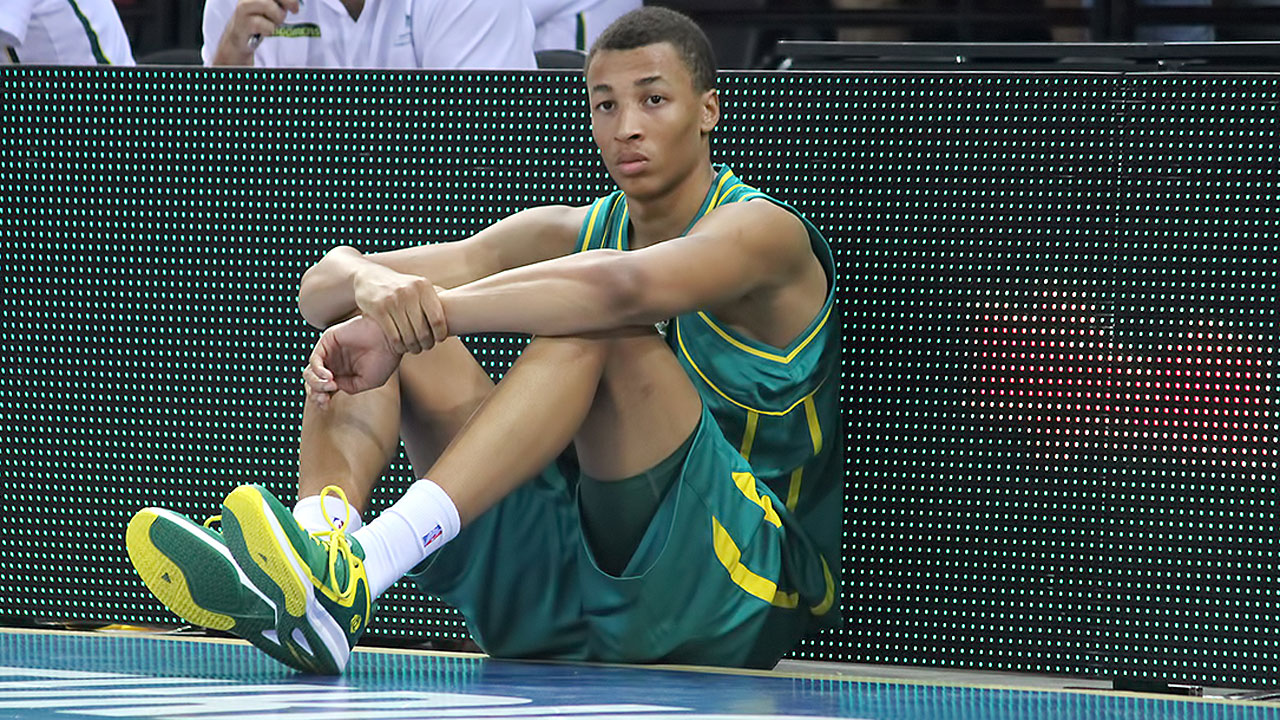 Dante Exum was not a good NBA point guard last season. So why are Jazz fans rushing to their Zoloft bottles at the news of his snapped ACL? Did they not witness the sad display of offense from the boy: the misplaced lob passes from the key in place of taking the open push shot himself, the inability to get to the line… ever, the clunks off the back of the rim any time he took a jump shot off the move? Unless they were busy curtailing the horror of POSSIBLY being featured on the KissCam, they should have.
Yet they'd also have noticed that Exum causes problems for other teams on the defensive end. He was quick enough to stay in front of the smaller point guards on D and long enough to alter their jump shots when they stepped back. I grant that starting and giving starter minutes to Gobert was the main reason for the Jazz' late insurrection against small-ball run-and-gun for to defensive uberness, but Exum's presence was not an insignificant factor. Whatever Exum's deficiencies, the mix with him getting near starter minutes was working for the Jazz, and on good nights, Jazz fan would be hoping they left him in longer. The promise this year was that Exum would be better, and in turn the Jazz. In fact the entire fun-factor for Jazz fans entering this season was wondering how much better Exum could be in his second year.
One very impressive quarter of July summer league against same– year draftee Marcus Smart wetted Jazz fan's whistle. And then came Slovenia.
ARE YOU KIDDING ME!
So now what, Jazz fan? Now what?
The hope, and the opinion of many a scribe, is the Jazz will prevail anyhow. That Burke, although a near wash in place of Ex (trade defense for offense), is good enough and guess what?– They can just give the ball to Hayward anyway. There's little the Jazz can do at this point regardless, with free agency settling in like well-mixed epoxy and any trade requiring too much of their well-balanced core.
Although options or few, Lower the Rim (as usual) offers a few suggestions. 
The Jazz's first best option is to sign President Barack Obama to a one year, rookie minimum contract. Wait P-mac, why Barry? – he didn't even play big-time college ball, he's 54, and what about his current day job? Good points all. True that Obama has no college experience, but neither did Kobe. Barry is old at 54 I agree, but there's very little wear and tear on those knees – he should be fresher than his age. Obama was a slashing, drive and dish guy at Punahou High School, sort of what Jazz fan would have hoped Exum would be this season. Barry is left handed also and we all know how crafty left handers can throw off a defense. And defense is the biggest reason the Jazz should go after Obama – not his defense but the other team's. I mean, who is going to defend the President of the United States with middle linebacker Secret Service folks sitting front row with Churros? And we all know that bad defense is contagious, once the player guarding the President slacks off, the whole scheme will fall apart – and hello 50-win season. The respect factor makes up for Obama's famous lack of jumping ability and inconsistency from the 3-point line. And as far as going dual league (NBA/Executive Branch) – Barry Sanders did it with success and so did Bo. So let us carry on this great tradition of B's, OR—
We've got Lower The Rim Plan B:
Raul Neto.
Give Neto the ball and swallow the 6 turnovers a game, because Neto is a giant compared to the other Lilliputian Jazz point guards (he's got at least an inch on Burke). And though it's true, he can't shoot a lick form the 3-point line, the boy has juice and he's not a bad shooter from inside the arc. Neto is a pass first point and a better distributor right now than Burke or Cotton or Exum or an all-powers-combined fictional rendition of the three whose fabled name is… Bucottonex? Ex Bucottina? PLUS, Neto's got a Ricky Rubio feel for the court. And if nothing else, the Jazz are probably going to continue to run most of the offense through their skilled wings (Hayward and Hood), so they might as well put someone different at the point to keep us all interested. Like the way Ingles didn't do much last year? But we got to make up great nick names concerning his lethargy? That was fun.  
It won't be enough for the Jazz just to win a few more games this year. With the intrigue of Exum gone, the Jazz need to put another fresh-faced competitor into the Vitamix.
Spice up the run to the playoffs. 
— P-MAC